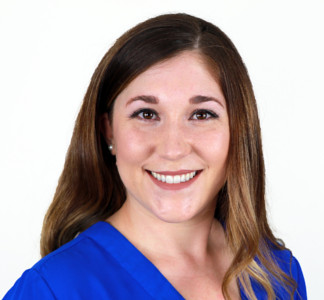 I grew up over the hill in beautiful Butte America. I graduated from Montana Tech in 2010 with a BS in Chemistry. This is where I met my wonderful husband, Tyler. We both moved to Las Vegas after undergraduate and were married in 2014. We have one son named Declan who was born in September 2017. He is our pride and joy! We also have a little diva dog named Packer who runs our lives. When I'm not treating patients you can find me spending time with family, hiking, floating or skiing.
As my patient you can expect a thorough and honest evaluation of your oral health. My goal has been and always will be to treat my patients how I would treat my own family. I enjoy being a general dentist and having the opportunity to perform a variety of procedures each day. It allows me to think critically, problem solve and utilize my artistic skills, which keeps life interesting. I believe that continuing education is the most important thing that we can do as dentists to better ourselves and provide the most current, superb dentistry possible. I have been practicing in Las Vegas for several years and was thrilled when the opportunity arose for me to relocate to Montana.
Big Sky Dental Center was a perfect fit for me. The practice style and beliefs are in line with my values, and I am so blessed to be able to interact with such an amazing team. Everyone works together in a way that makes even the most challenging work days pleasant. We offer a plethora of services for the convenience of our patients. We also pride ourselves on providing the best dentistry possible under the most peaceful conditions. Patient comfort and maintaining oral health are our main focus. Our office does a great deal of community outreach and a yearly mission trip as well. Giving back to the community is very important to me.
Dentistry is a great way to become a positive and instrumental part of the community. I am honored to have the opportunity to give back to this great community that raised me!
Professional affiliations: